If you hate weeding borders, then this is the blog post for you!  One of the most common reasons why redesigning a garden area is considered, is to cut down on the amount of work required.  Busy lifestyles in this day and age have meant less time to complete 'mundane' garden jobs such pulling out weeds. You can cut down on the amount of weeding  you do by creating a low maintenance gravel border.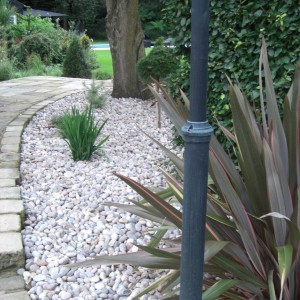 Step by Step Guide to creating a Gravel Border:
Firstly, you need to clear the area. Remove all or most of the existing planting from the borders keeping any favourites to one side.
Next, dig over the border to introduce air into the soil and make it easier to work. Remember, this is your last opportunity to improve your soil, so if it is heavy, add a little peat free compost to break it up a bit. You can add a general purpose granular fertiliser at this stage too.
When you have dug over the soil, rake it over so it's even there will be no bumps underneath the gravel.
Now you can lay out your weed control membrane. Peg it down so it's nice and secure.  Laying weed control membrane is an important step as it blocks out light to the weeds and keeps the gravel separate from the soil. Ensure you use 'actual' weed control membrane as opposed to bin bags or plastic sheets with will degrade over time.
After you have laid out the membrane, plan the positions of your plants if you have chosen to keep any. Cut a cross in the membrane big enough to accommodate the plant and fold back the edges. Carefully remove enough soil to allow you to plant the plant. Keep a container close by to put the soil into. You want to avoid letting soil fall onto the membrane. After planting, fold back the edges of the membrane to form a tight seal around the plant.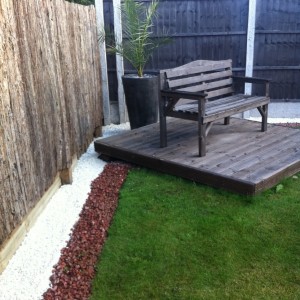 Finally, you can lay your chosen gravel. There are many different types of gravels to choose from and it will really be down to personal taste.  An ideal size is a 20mm such as 20mm Golden Gravel, or 20mm Yorkshire Cream – both of which are a flint.  If a more rounded look is preferred, we have the 20mm Moonstone or 20mm Gravel.  If you want to introduce some colour to the garden, we have 20mm Green Granite or 20mm Red Granite.
With your chosen gravel in place, you can accessorise with ornaments or add height by introducing different sizes of cobbles.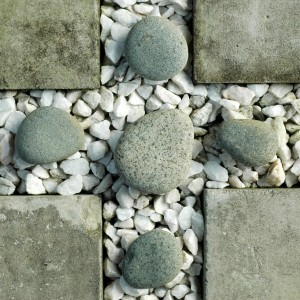 We offer FREE economy delivery (2-3) days to most UK postcodes. We offer other deliveries such as Next Day (overnight service), Economy pre 12pm, Economy pre 10am, Next Day pre 12pm, Next Day pre 10am and Saturday AM services. All these delivery services will come at extra cost and deliveries are made via tail lift vehicles, so the bags cannot be lifted over walls, hedges or fences. All products are delivered on a pallet and moved via a hand pump truck which will not operate on gravel or any soft ground.